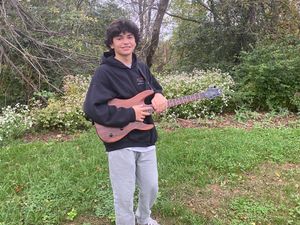 Meet the Players: Vasilis Motsenigos  
Entering CMI with a well-developed background in the arts, 14-year-old Vasilis, or better known around the studio as "V," is a multi-talented actor, singer, guitarist and ukulele player. Primarily studying guitar at the CMI Studio, he is making steady progress as he learns to play his favorite songs alongside other students of his age.  
Music had always been a large part of Vasilis' life as he grew up listening to traditional Greek music and later became involved with theater. Joining his first play in the third grade, he quickly fell in love with drama and the joys of producing a play, as he loved the connections that it fostered. Working in school productions as well as at the Civic Theater, he developed a love for performing and using his voice to move audiences. "Once I started [theater], I immediately loved it, especially being on a stage," said Vasilis. "I know if I had the chance I would definitely do movies." This love for acting soon led to more opportunities, as he was even cast in an award-winning short film that explored current issues related to immigration. Throughout his works in theater and film, Vasilis has accredited the people involved with the productions as one of the best parts of being involved with acting, as the ability to work with equally passionate and creative peers became incredibly valuable to him, and allowed him to make memories.  
However, the collaborative and close knit atmosphere that Vasilis treasured in theatre was not left on stage, as he has trained alongside other students at the CMI studio. Breaking out of his comfort zone, he began playing with other musicians in a CMI Session that he joined as a guitarist earlier this year. As he developed his skills alongside other players who were at a similar skill level, the musician experienced the power of collaborative learning and how much of a positive impact playing with others could have on his progress. He and the other students in his Sessions often also picked similar songs that fit their interests and levels of abilities, creating the perfect environment for them to feel both challenged and encouraged.  
Vasilis' interest in playing also stemmed from his relationship with music and creativity as a whole. Originally, the musician had no intention to play guitar, and instead invested all of his time in learning how to play the ukulele. Inspired by his aunt, who had a ukulele, his interest in the instrument led him to enroll in lessons, where he developed his skills and also began to develop an interest in playing different kinds of music with guitar. Eventually picking up guitar lessons at CMI, the music that he is drawn to learning how to play now is defined by its highly passionate nature. Always a very emotional person, Vasilis seeks similar depth in the music that he listens to and plays. He often looks for music that resonates with him and his own life experiences, and is especially drawn to singing such things that speak to his soul.  
This affinity for emotional works brought him to  love artists like Rex Orange County, who eventually became one of the major influences that inspired Vasilis to take interest in indie rock guitar. As he began to play and sing songs by Rex and other similar artists, he discovered that he found more joy in playing music that he could personally empathize with. "When I sing along with the music, I like to know what it is talking about," Said Vasilis. "It definitely makes it easier [to play] and like I feel like even when I'm singing I can definitely sing better when I actually feel what the song is saying." This interest in finding music that is personally meaningful to him has also translated into his interest in producing original music. Although he has not created any works yet, V states that if he were to begin, he would try to use his music as a way to focus on the struggles of life and provide other people with a similar source of companionship and understanding through sound. 
Adithi Katikhaneni 
CMI Music News