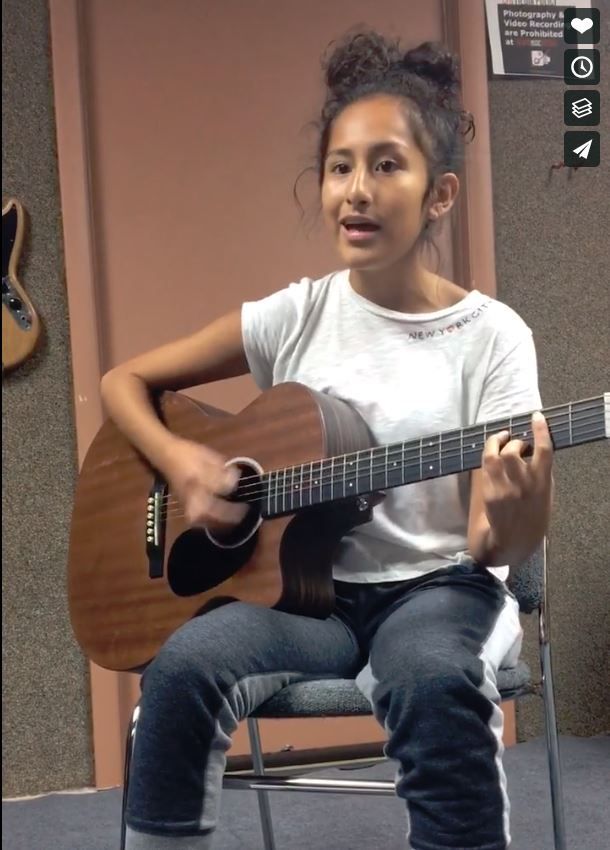 CMI Guitarist Briana Prieto recently won the Lower Macungie Middle School Talent Show after playing the song "Riptide" by Vance Joy. Prieto is no stranger to a live audience. Though she has done several performances in both theatre and dance, she says that playing in front of her peers was the most nerve racking because they were all people who knew her. Typically. Prieto plays small shows for groups of her family. She often spends time with friends and family who describe her as outgoing, talented and creative.  
Prieto has played guitar for nearly three years. She also plays violin and piano in addition to the guitar. Prieto usually plays songs she hears on the radio. Harry Styles and Vance Joy are Prieto's favorite artists. She mostly plays modern music, though she listens to many genres.  
Ed Sheeran is Briana's idol in modern music. Prieto says that no one inspired her, however the songs that she wanted to be able to play and sing had guitar. She wanted to be able to recreate the songs she heard on the radio.  
In the future Prieto hopes to continue preforming as a soloist. She also plans to create an album of her original songs. She enjoys playing as a solo artist, but she also enjoys playing with other members of CMI during her group lesson. Prieto feels her experience with Jack Myers and John Lahovski, her instructors at CMI, has been beneficial because they have been able to pass their knowledge to her while providing her with the confidence she needs to play as a soloist all while pushing her to the best musician she can be.
Gaby Sukop
CMI Music News
Click the Vimeo Link below for